Sunday June 5th:  Sunday was our day "off."  For me this meant that instead of rattling my brain through a long car ride over very bumpy roads, I would rattle my brain trying to perfect the software that was still taunting me (and I do
mean taunting).  By about 8:00 at night, when the team came to pick me up, I was successful! Success was accompanied by dancing and singing.  Glad there were no cameras around.
During the day, I suggested that Paulie take the time to hike and discover more about the area.  This next (abridged) section is in his words:
"What I really like about the day was the opportunity to hike into the mountains and fields.  I went with our photographer (Alec) and we hiked a lot.  I was amazed at how much of their land is used for farming.  Virtually every inch not used for living quarters is farmland.  Of course, given their need for inexpensive food and their need for additional income, an efficient use of land is important.

I gave out extra candy to the kids in the mountains since I rationalized that they don't likely see many tourists there.  I also had some time to think about the question on happiness.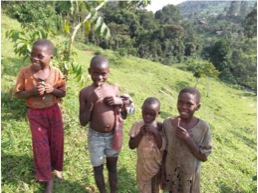 I figured that when the kids get candy they think about the material enjoyment from the candy.  However, receiving candy does not consciously raise awareness of the deeper happiness, the happiness that comes from being loved and cared about. …
In giving a gift, one both gives a material item and an affirmation of the recipient's value as a person.  I believe that this affirmation is the basis of happiness, and that it can be facilitated by material things (such as gifts), but cannot be created through material wealth.